Monday, April 18th @ 6pm - 8pm in The Event Center
Make sure you have your running shoes.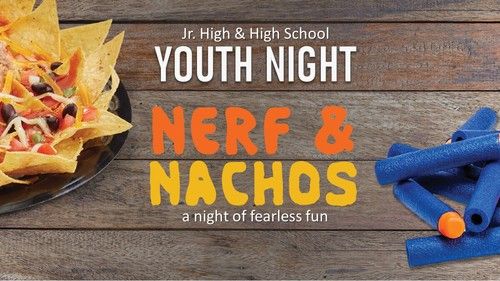 Calling all Jr. High and High School Students. We know that most of you are off school on Monday. Let's end our Easter weekend by putting on our running shoes. Get ready to dodge and weave for a night of Nerf Battles and Nachos.
Whoever you are, wherever you're from, you are welcome here.
Student Ministries is a place for Junior High and High School Youth
can discover who you are in Jesus and connect with other students in games, music, and a message that will help you recognize your call and together, we can RECOGNIZE our call.
Advanced Tactics Leadership Training: Have you ever heard the story of the wise man and the foolish man? One built his house on the sand, and the other on the rock. When the storms of life come, what do you want your house to be built on?
We encourage our youth to join us in service to worship together and hear the same message as parents to facilitate conversation
On the 2nd and 4th Thursday's of the month students have their own dedicated time to dive in community and connect with one another
Get Connected. Go Deeper.
Small Groups are not just for adults. While our students have access to all the internet has to offer of Social Networks; real relationships are formed in person face to face community with one another doing life. We encourage our students to gather together offline.
We'd love to hear from you. Fill out the form below to get started.